competition schedule
| Time | Activity |
| --- | --- |
| 10:00 | Race bib distribution and map distribution |
| 10:00 | Rogaining walk open and available the rest of the day |
| 12:00 | Start for 2h, 4h rogaining and Rogaining run |
| 16:00 | Cut-off time for 2h, 4h rogaining and Rogaining run. Awarding as soon as possible. |
| 16:30 | Awarding ceremony for 4h rogaining and Rogaining run |
| 17:00 | Start for 6h rogaining |
| 23:00 | Cut-off time for 6h rogaining. Awarding as soon as possible. |
start pack DISTRIBUTION PROCEDURE
One representative of each team hands in a signed confirmation (one per whole team) at the registration desk. Print and sign it at home or get a blank copy at the event centre.
In return at the registration desk you will get an envelope with your race numbers, pins, SI cards (idents), wristbands for attaching the SI card around the hand, as well as various special offers from supporters. For teams that rent compasses, they will be issued together with envelopes.
This time there a lottery won't be organised to avoid crowding.
Its not clear if medals will be ready at the day of the event but you will able to request them and receive at the next event.
After finishing competitors will remove their chips themselves (in front of a referee) and drop them in the box.
Storage of personal belongings will be organised in a corridor. We will provide a security surveillance but can't guarantee that some of your competitors might take your belongings, so don't store anything valuable there.
competition centre
Competition centre is located at the Riga Congress Centre (Rīgas Kongresu nams) Krišjāņa Valdemāra iela 5, Centra rajons, Rīga, LV-1010
The competition will be provided with toilets, storage rooms, dressrooms, registration, map distribution, medical assistance, awarding. Participants will be able to purchase ISOSTAR energy drinks, gels and bars, as well as other things in the race supporters tents. All finishers will receive medals and finish packages.
Driving directions to the event centre: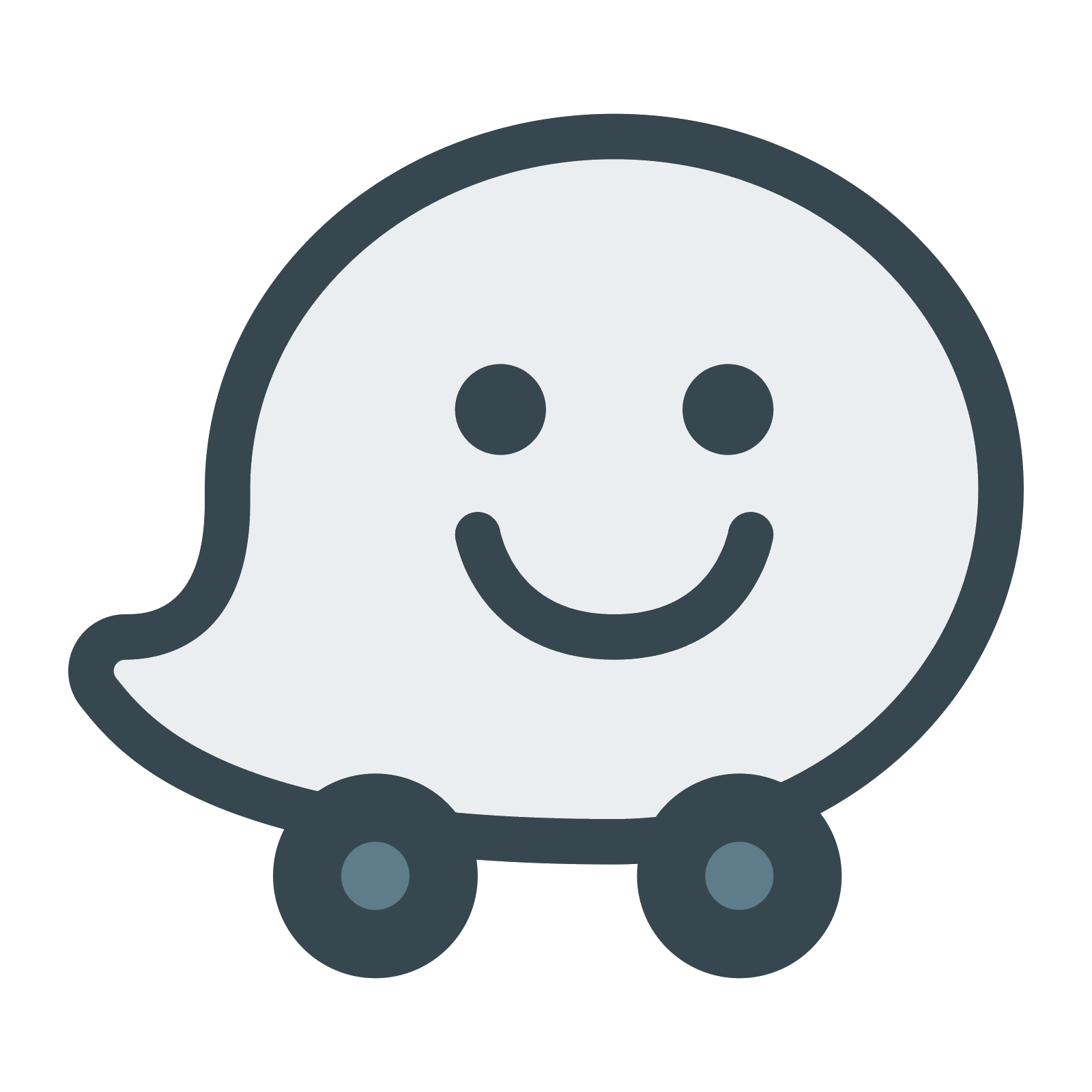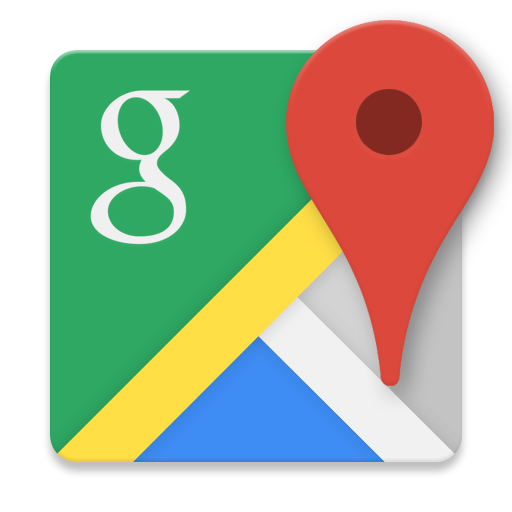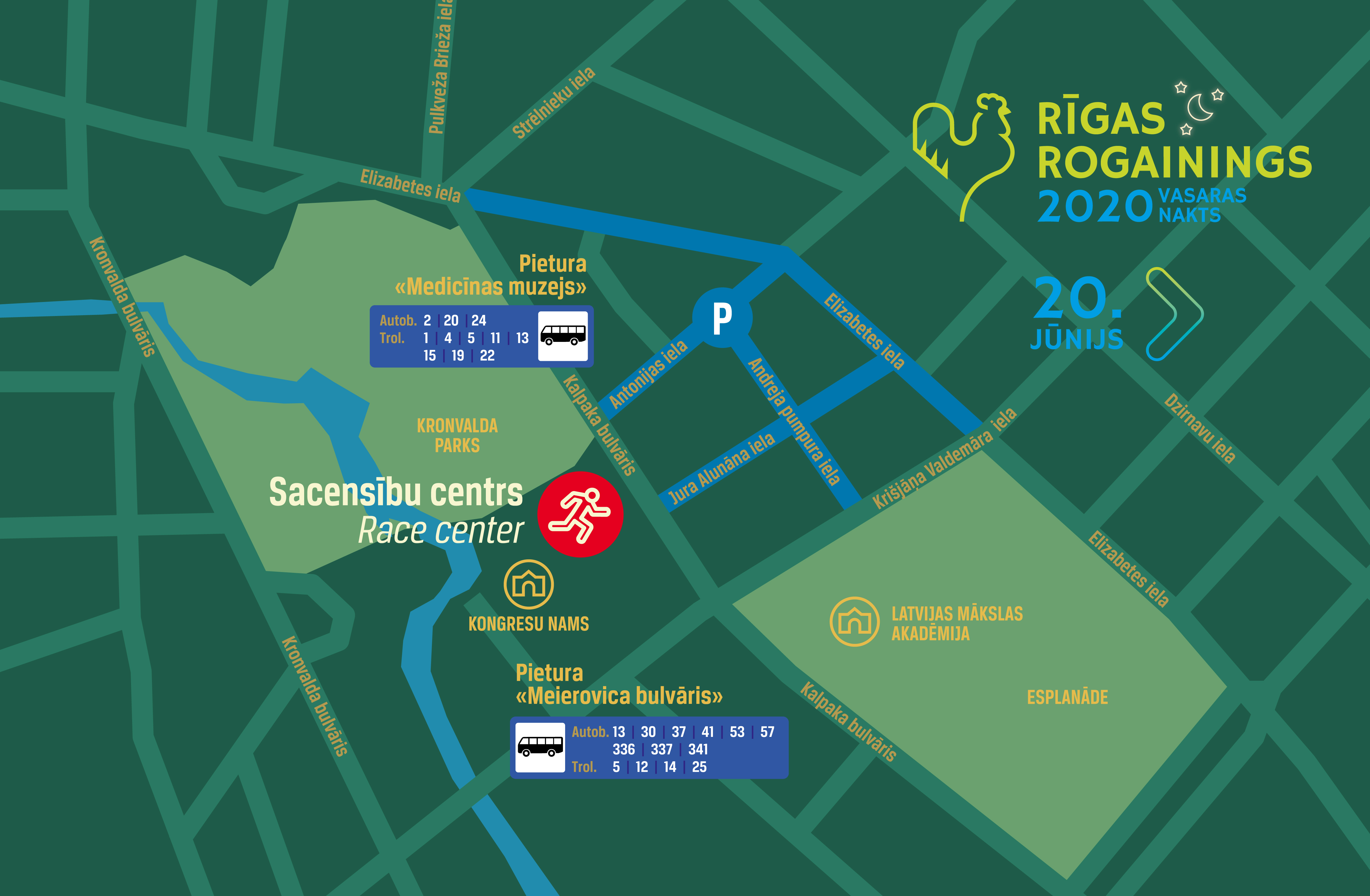 Territory
This summer rogaining event is the first out of six events in the rogaining series "Urban legends" running the entire season of 2020. It will start and finish at the shopping centre "Spice Home" and show you previously not explorer territories in the history of orienteering in Riga city between calm low raise suburbs on the banks of Mārupīte creek, airplanes landing and taking off at Riga airport and wetlands and lakes in the south.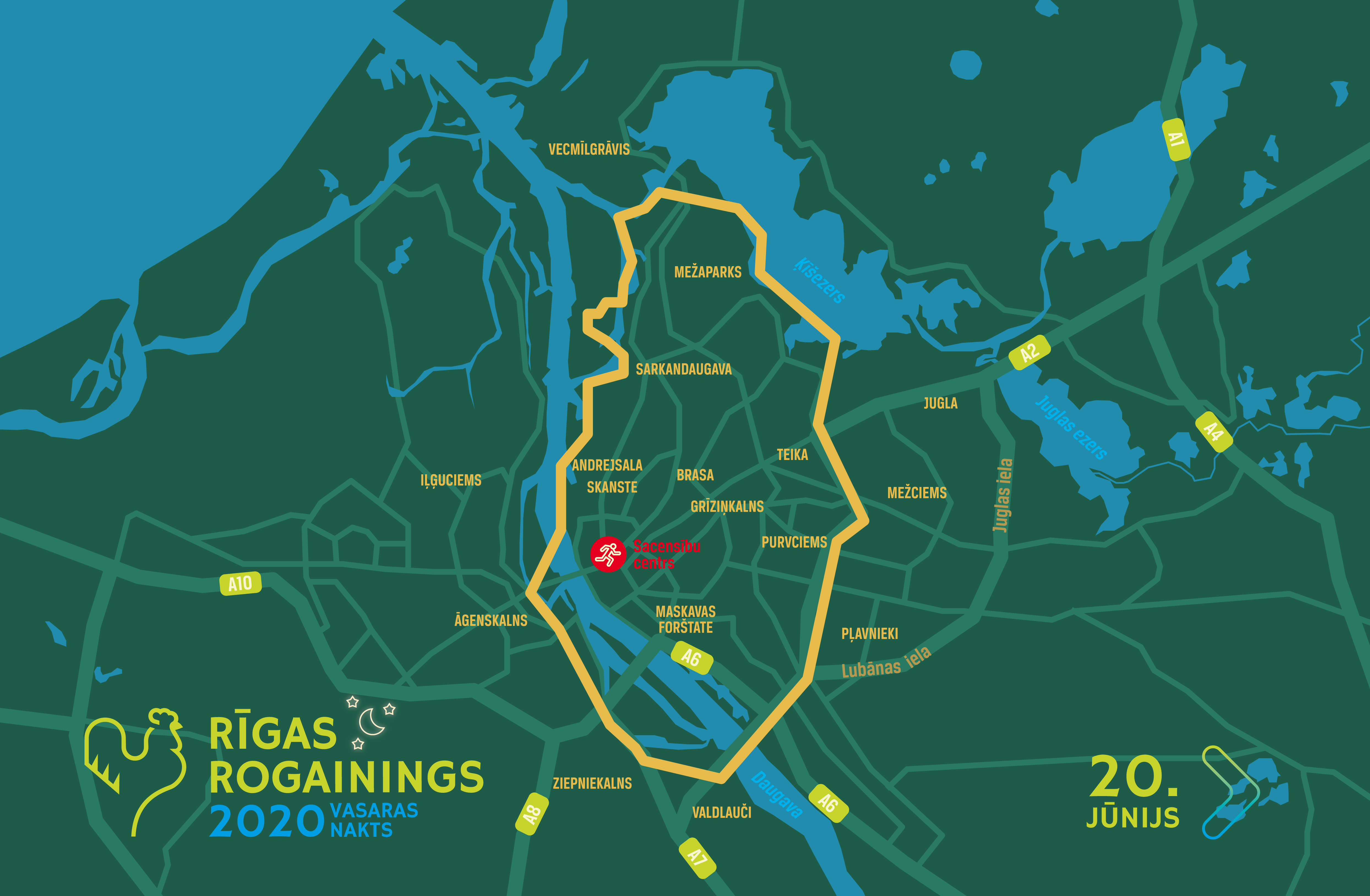 Choose your distance
Rogaining walk (2h ~5km) is meant for the children who is 12 years old or younger. The format of Rogaining walk is designed to be in teams, which are accompanied by Instructor - a person provided by organizers. If a child is 7 years old or younger, it is mandatory for a parent or guardian to be present and accompany the child.
2h rogaining, 4h rogaining, 6h rogaining competes teams which are formed from 2 to 4 people, where at least one person is at least 18 years old on the day of the race. In case participants are under 18 years old, they must submit a written permission written by their parents or guardians.
Rogaining run is ~ 14-16km long distance – an orienteering route that is not marked and is made for individual participants, who run or walk the distance, while punching all necessary check-points on the way. Checkpoints are indicated on rogaining map that the participants receive on the race day.
Sprint - any team during its race can incorporate and visit 4-6 blue checkpoints on the map in any order in the shortest time possible to win a special title "Pixie of the Creek" in 3 groups (men, women and mixed teams).
Necessary EQUIPMENT
We recommend you to choose sporty clothes and comfortable shoes where you can walk around the city and the forest. For each team, the required equipment is a charged mobile phone (organiser's telephone numbers that can be found on the race map). Recommended equipment in the distance for all teams are waterproof marker for writing, that can be used for planning a distance to indicate a team route, a compass with degree graduation, a ruler, a clock, energy food and a drink.
LIVE GPS TRACKING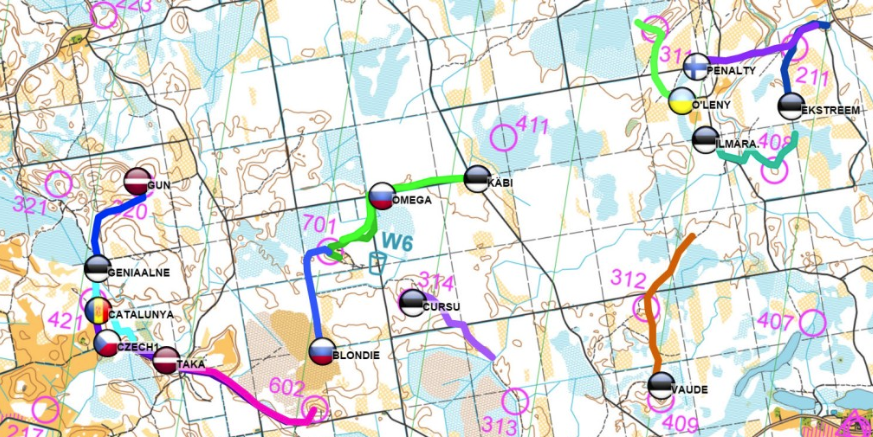 Live GPS is a great tool where you can in Live follow your team, how they choose their route. After the race you can compare and replay routes and strategies your interested teams have completed.
Riga summer rogaine 2020 Live GPS - http://sportrec.eu/ui/#1f28m4s
Riga spring (indian summer) rogaine 2020 Live GPS - http://sportrec.eu/ui/#1f28m1e
Riga summer rogaine 2020 Live GPS - http://sportrec.eu/ui/#1f28lfs
Riga autumn rogaine 2020 Live GPS - http://sportrec.eu/ui/#1ecoarr
To get your Live GPS, you can register it in registration form or write to rogainings@xrace.lv. Price 5 EUR per team.
GPS ROUTE recording and analysis after race
If you prefer to record and analyse your own GPS route at home, you can use a smartphone app MapRunF:
iPhone version: https://apps.apple.com/au/app/maprunf/id1468994114
Android version: https://play.google.com/store/apps/details?id=au.com.fne.maprunf)
Open the app > Select Event > Latvia > iīgas Vasaras Rogainings 2020 Kongresu nams > Go to Start (currently protected by PIN, but shortly before start PIN won't be necessary anymore)
Turn on GPS/Location function in your smartphone shortly before the start.
When approaching the start, any checkpoint or finish at the end closer than 15 metres, the respective circles on the map will turn green (collected) and your smartphone will beep/vibrate (henceforth you may leave your smartphone in your pocket or backpack until after finish as long as it continues signalling near each checkpoint thus indicating that it works successfully).
You can also use your GPS smart watch instead of smartphone un after finish upload your GPX route file here: http://www.p.fne.com.au/#/gpsupload
All routes willl be avaible here: http://www.p.fne.com.au/rg/cgi-bin/SelectResultFileForSplitsBrowserFiltered.cgi
If MapRunF by mistake didn't record any of your visited checkpoints, in the app click Show Results > select your just completed event > Review Results (HITMO) and indicate the missing checkpoints.