RIGA SPRING ROGAINING 2016 - PRE-START INFORMATION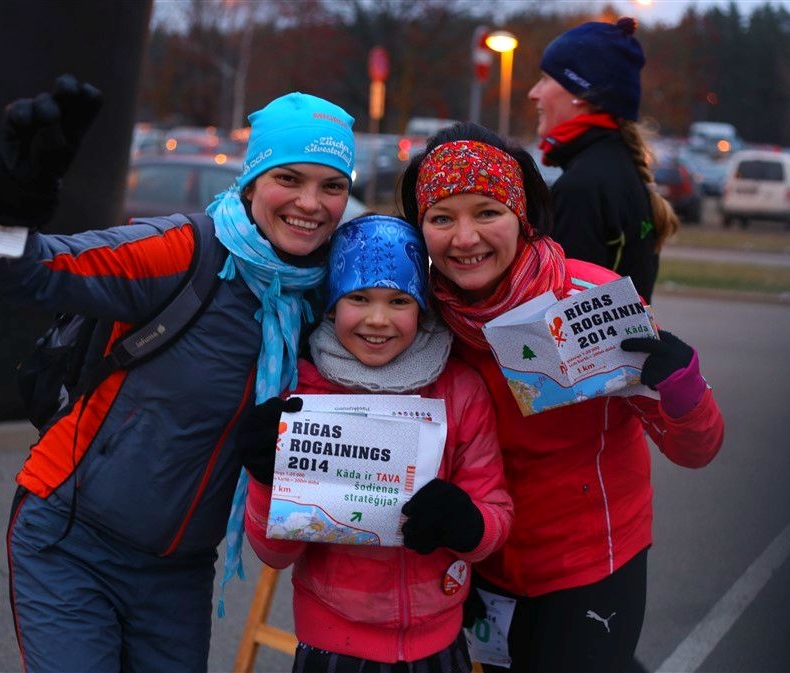 This week we can be happy for at least 3 things - spring is here, Easter is here and Riga Rogaining 2016 is here! Check out all pre-start information that will help you to know the details on the event day before and during the race.
INSTRUCTIONS AND MAIN INFORMATION
The goal is to collect as many points as possible within the specified time. Check-points have different values, which is indicated by the first number (21=2 points)
Before starting the distance you must check in START station, which will be located at the entrance of the corridor. Without checking into this station first no other check points will be counted.
The end result will be counted only after all members of the team have checked in FINISH station which will be located under the arch. It will be checked if the wristband is not damaged, and only then it is allowed to take off the SI card.
If check point during the distance is stolen or damaged (doesn't work), then send SMS to +371 20011284 stating team number and particular check point number, for example, "NR 403, CP 23). Only then it will be counted. If you call and tell that it is stolen or damaged, it will not be counted. After sending SMS you can continue the distance. If afterall the check point would have been there, it will not be counted.
The race takes place within city limits with active traffic as well. Please make sure that you follow the traffic rules for your own safety. Contact numbers: +371 25888832, +371 20011284. Emergency situations: 113.
If time limit is exceeded (2h, 4h or 6h), every minute late is minus 1 point. If it is more than 30 minutes, result is not counted.
In every check point team members must check in within 1 minute.

RACE CENTER AND TIME SCHEDULE
Race center is located next to the shopping mall "Atrium Azur", Mazā Rencēnu iela 1, Riga. Check out on the map: http://ej.uz/rigarogaine16 There will be toilets, storage rooms, race number withdrawals, first aid, award ceremony, catering at the race center. Participants will be able to purchase "Isostar" energy drinks, gels and bars, as well as "Garmin" and "Bandana" products. Energy points during the distance are not available, however every participant will receive "Vichy" drink at the finish.

| | |
| --- | --- |
| TIME | ACTIVITY |
| From 10:00 | Registration starts |
| 11:30 | Handing out the maps |
| 12:00 | Start for all distances |
| 14:00 | Cut off time for 2 hour distance |
| 15:00 | Award ceremony for 2 hour distance |
| 16:00 | Cut off time for 4 hour distance |
| 17:00 | Award ceremony for 4 hour distance |
| 18:00 | Cut off time for 6 hour distance |
| 19:00 | Award ceremony for 6 hour distance |


NUMBER WITHDRAWAL PROCEDURE
All team members must come to the registration point to take out race numbers, say team name and sign in the registration protocol for taking out the number. Team captain cannot sign for others. In the team envelope there are race numbers, clips, food vouchers, SI cards, wristbands, as well as different coupons from sponsors. Teams that rent out compases or GPS, they will be given out together with envelopes.


RECEIVING MAPS, PLANNING DISTANCE AND START
At 11:30 one team member at the race center will be able to receive the maps, so teams could start planning the route. When receiving maps, it is important to read all the instructions. It is possible to do the planning in the tent, or any other place. Every team member has 1 map. Before the start everybody must attach wristband with SI card and keep it undamaged. When entering the start coridor it is important to check in at START check point (1 beep is enough, no need for more).


DISTANCE
Since traffic during the race is not closed, all the participants must follow the traffic rules, especially when crossing streets and street lights. When check point is found, all team members must check in waiting for a beep. Teams must check in at FINISH check point until the specified time. Check points that are visited after the control time, are not counted. In the finish corridor, everybody must take off their SI cards and leave the in the specified boxes, but equipment - in the information tent. Results will be displayed electronically on the screen at the race center, available also from mobile phones, when visiting race homepage.


EQUIPMENT DURING THE RACE
It is recommended to choose warm, active clothes, gloves, and comfortable shoes that are good for running both on the streets and in the woods. Every team must have fully charged mobile phone, which can be used only in emergency situations. It is also recommended to have a marker for planning the distance, compass with degree sections, ruler, watch, energy food, and drinks.


RACE MAP
Maps will be water proof, and every participant is responsible for preserving it in wet conditions. The map's scale is 1:20 000 - 1 cm on the map is equal to 200 m in reality, size of the map - 35 x 90 cm. Map is prepared based on publishing house's "Jāņa Sēta" materials. There are topographic symbols used on the map. Salient is not shown on the map, and there are no major salients in the area. The author of the map and the race is Valters Kaminskis. Example: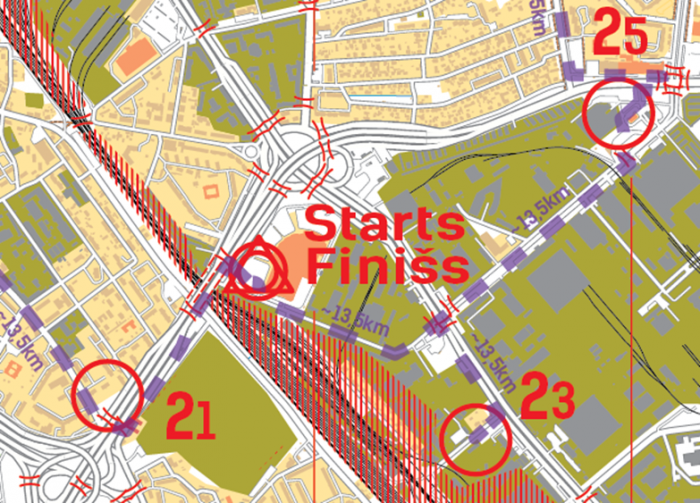 DESCRIPTION OF THE DISTANCE
Race area is pretty diverse: old town suburbs (Maskavas priekšpilsēta), including Central Market (Centrāltirgus), low-rise residential suburb (Purvciems) and high-rise residential suburb (Purvciems, Pļavnieki, Ķengarags), industrial area, residential suburbs outside Riga city limits, forests, and meadows. There are streets, country roads, and wood roads in the area. It is possible to cross the railway in public crossings, as well as several walking bridges. Participants must follow all the traffic rules, streets must be crossed only in public crossings. There are recommended crossing marked on the map. Check points are located in all area, mainly in publicly available places. Check point stations are mostly attached to small trees and fences. When choosing the distace please avoid industrial areas, because they are fenced and cannot be crossed. Please be especially careful when crossing railway. Race area is mostly dry and fast; it is possible to complete the distance with dry shoes, using streets, roads and paths. Be careful and good luck!

See you soon!
Riga Rogaining organizers