RIGA ROGAINING IN PĀRDAUGAVA GATHERS AROUND 1,000 ORIENTEERING ENTHUSIASTS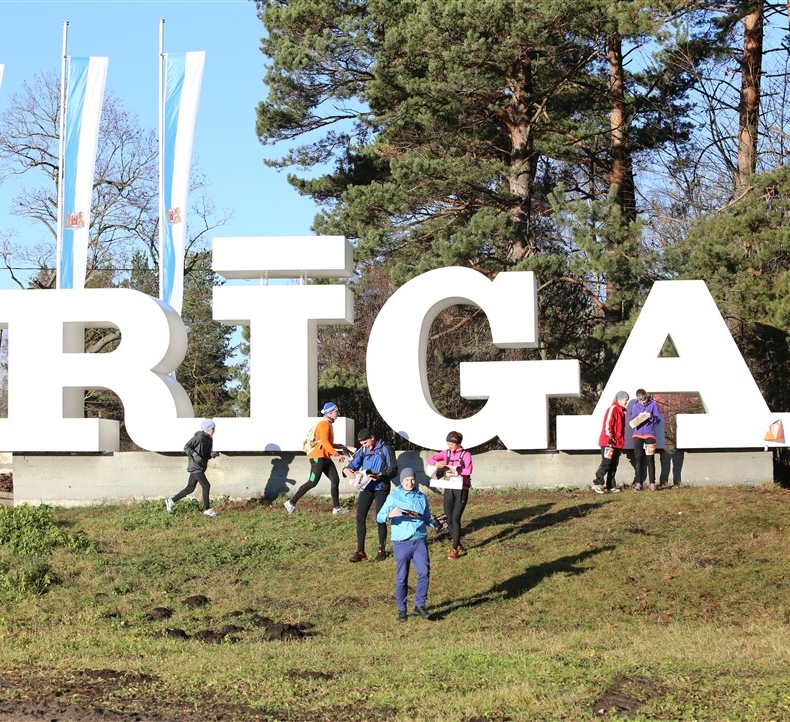 On Saturday, November 21st, "Riga Rogaining" - the biggest orienteering event in Riga took place next to the shopping mall "Rīga Plaza" gathering around 1,000 orienteering enthusiasts and offering to get to know several parts of Riga - Āgenskalns, Ziepniekkalns and further regions of the city.
The winners in the longest 6 hour distance was the team "Karvajalad" from Estonia, however in common rankings in 2015 (spring and autumn) the best winning strategy was chosen by the team "Īsāk sakot, būs grūti!" which consisted of Zigmunds Bībers from Ulbroka and Andris Ronimoiss from Riga.
Rogaining event started next to the shopping mall "Rīga Plaza" at 12pm, when teams in 2, 4 and 6 hour distances started the race. Participants represented Latvia, Lithuania, USA, Russia and Estonia. Children up to age 12 did the Rogaining Walk - orienteering in Lucavsala with the Bear, Squirrel and Hare - learned about rogaining basics. Every participant received a specially designed finisher's medal and warm meal.
In 2 hour distance the winners were Mikus and Mārtiņš Puriņi from Āgenskalns with a team "Nav". The second place was won by "Ozons & Kukaramba" which gave first place in mixed (men&women) group. In women category the strongest team was "Tūristes", however among family teams the most number of points was collected by team "Amakatanav" - father Raivis Kalniņš with his son Austris.
In 4 hour distance there were almost 150 teams, the winners were brothers Andris and Zigmārs with the team "Neliels treniņš", 2nd place - team "Ātrāk", 3rd place - "Gentlemen's Club" - men's category. In mixed group the winners were "42km.lv", among women - "Kārklu muiža". The largest number of teams was in 6 hour distance - the winners - "Karvajalad" (men), "Isostar Long Distance Energy" (mixed), "Smiltenes meitenes" (women). In common rankings in 2015 the winners were "Īsāk sakot, būs grūti!", 2nd place - "Riga Adventure Team AJJS", 3rd place - mixed team "Isostar Long distance Energy".
In 2016 Riga Rogaining will take place on March 26th and November 26th. Rogaining is a team sport of long distance cross-country navigation and orienteering. Teams of 2 to 5 people choose which check points to visit within a certain time limit in order to maximise their score. Check points have different score value. Teams are ranked by the number of points they have collected. The Riga Rogaine is presented by the Riga City Council and the Department of Education, Culture and Sports of Riga City Council. Sponsors: Isostar, Garmin, Hagberg, Asics, TC Motors, 42 km.lv, Vichy.